Stormsaver win big at The UK Business Awards 2022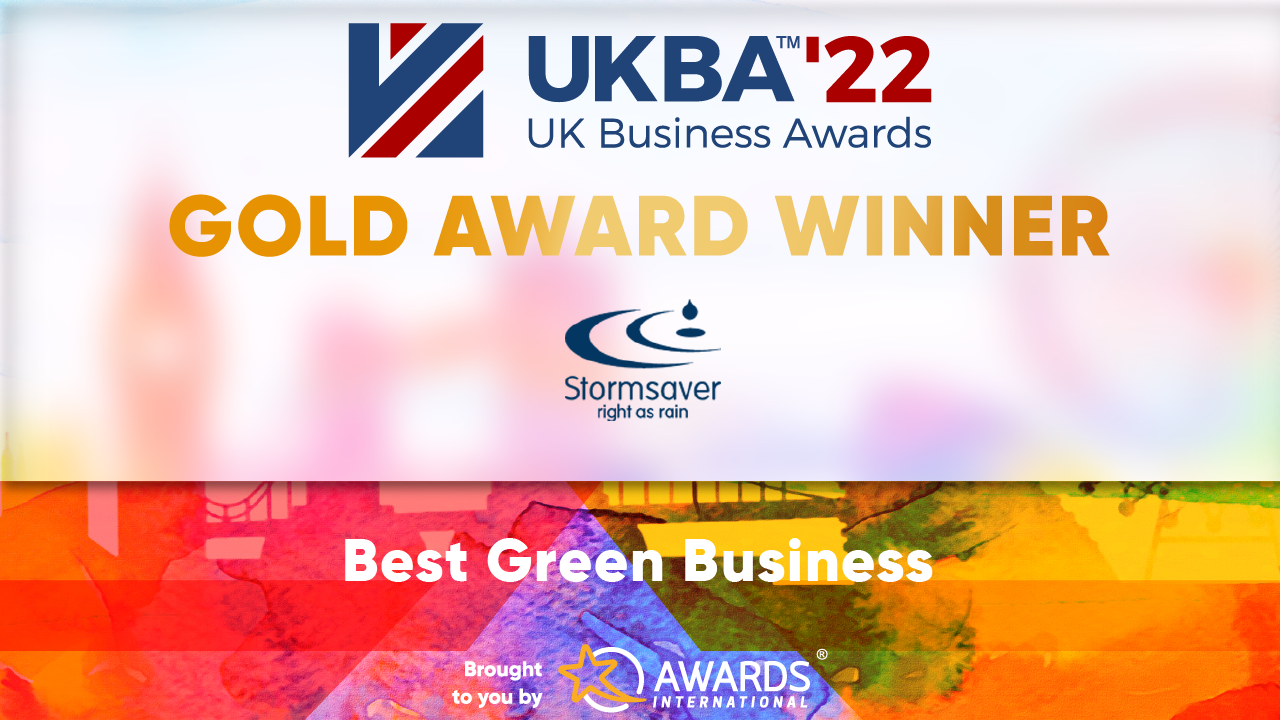 After months of anticipation and hard work by our whole team, the results for The UK Business Awards 2022 are in!
We are bursting with pride to share that Stormsaver has been named 'The UK's Best Green Business 2022'! This prestigious accolade highlights our work to create a more sustainable water supply for the future, as well as a recognition that rainwater harvesting is flying to the top of the environmental agenda. Our 2000 rainwater harvesting systems across the UK help to save 6.8 billion litres of water each year thanks to the hard work of our dedicated team and our wonderful customers. We have also made real efforts to make our operation more sustainable by utilising in solar energy at our offices and manufacturing unit, LED lighting, electrical vehicles and reducing single use plastics across our business.
The awards did not stop there! Stormsaver also achieved silver in 'Best Innovative Product' for our unique, all-in-one StormStation Rainwater Harvesting system. The market leading StormStation was designed by our in-house design team and embraced by our customers across the UK. As well as saving water, the unit can be made carbon neutral with the addition of solar panels which makes it a unique product within the industry.
Our 36 amazing team members are the beating heart of our business and the reason why so many customers choose us each year. So, it is fitting that their hard work has been recognised through the silver award for 'Team of the Year'. We would like to say a huge thank you to our team and well done on this prestigious achievement.
Finally, without you, our wonderful customers Stormsaver would not be the thriving business it is today. Your commitment to water conservation is helping to make a real difference within our society by saving water and reducing carbon emissions. The bronze award for the 'UK Customer Choice Award' shows that we really do have the best customers! Thank you to each and every one of you who took the time out of your day to vote for Stormsaver.
Lisa Farnswroth, Managing Director of Stormsaver said "To be awarded not one, but four awards in the UK Business Awards is an incredible recognition of all the hard work and dedication put in by our amazing team. Water conservation has to be prioritized in the UK's environmental agenda and these awards show that the judges recognized the importance of what Stormsaver have already achieved and what we have yet to do! To win Bronze in the Customer Choice Award against many well known, large businesses has made us all extremely proud and I would like to say a huge thank you to all our loyal customers who put their trust in our team year after year. All in all, a fantastic success and thank you to everyone involved."