What are the different types of rainwater harvesting systems and where can they be used?
It's relatively simple to understand how rainwater harvesting works. Firstly, storm water is collected from the roof of the building which is then sent to a storage tank through down pipes. This storage tank can be either underground or above ground, dependent on your requirements. Water is then boosted through a control panel and filtration devices, before being supplied to points of use. Dependent on the system type, the journey from tank to toilet may vary.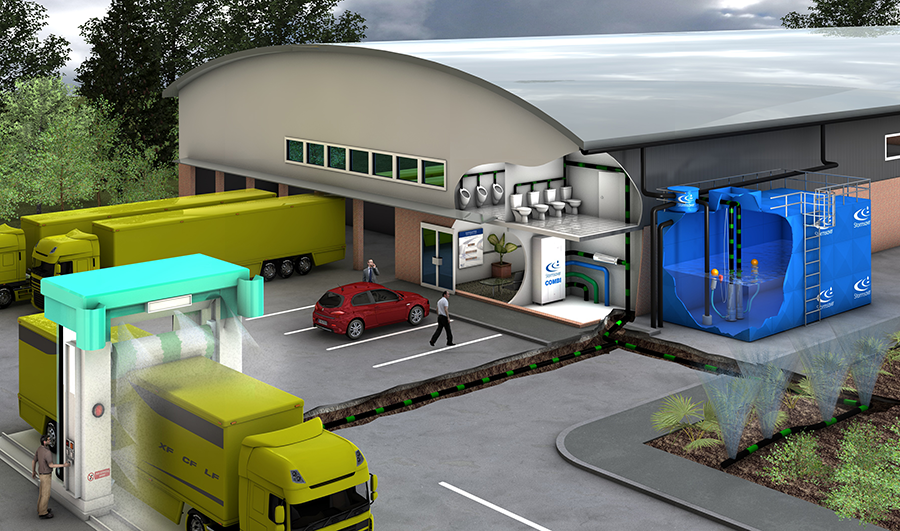 Best suited for where above ground space is limited and a pressurised water supply is required to reach points of use. In a combi system, a break tank, control unit and booster set are combined in one, compact unit meaning no excess space is taken up by large components. This arrangement should always be preferential to a solution where component parts are separate as it is easier and cheaper to install and simpler to maintain. British Standard Compliant systems should feature an automatic mains water back up facility which provides a reliable supply in the event of low rainfall or component failure.
These systems can be installed in most buildings due to their excellent reliability and compact nature. Schools, hospitals, sports stadiums, and other safety-critical venues have chosen the Stormsaver Combi rainwater harvesting system to ensure smooth operation and ease of maintenance.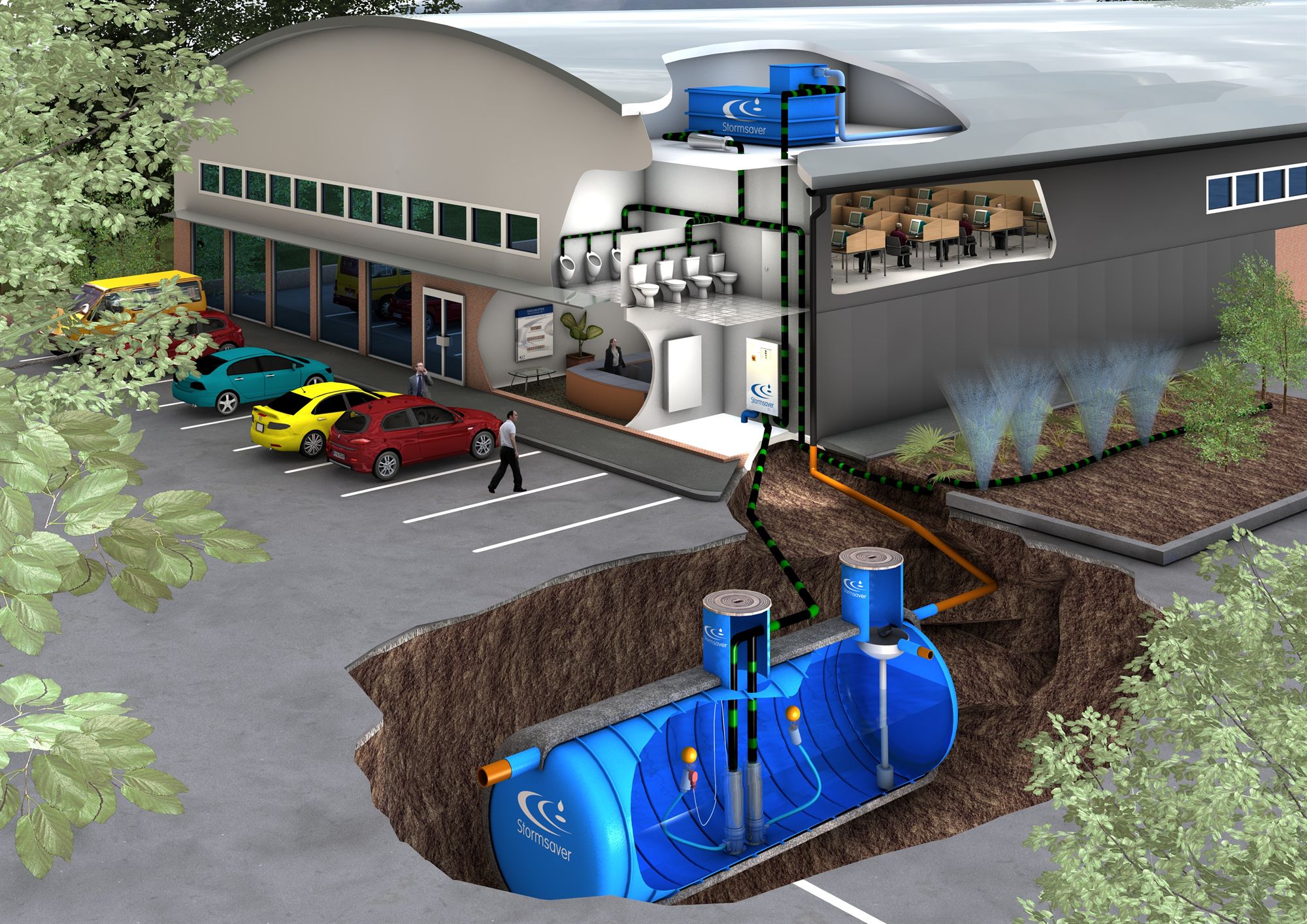 Have a large demand for water and plenty of above ground space for a header tank? Then our non-pressurised rainwater harvesting system is ideal to help your site reduce reliance on mains water! This system can be tailored to your individual water demands and is used in cases where our combi system is too small for the water demands of the site.
Like our Combi, the non-pressurised system is ideal for safety-critical buildings like schools, medical facilities and waste transfer sites and customers who have high peak demand periods, such as leisure facilities.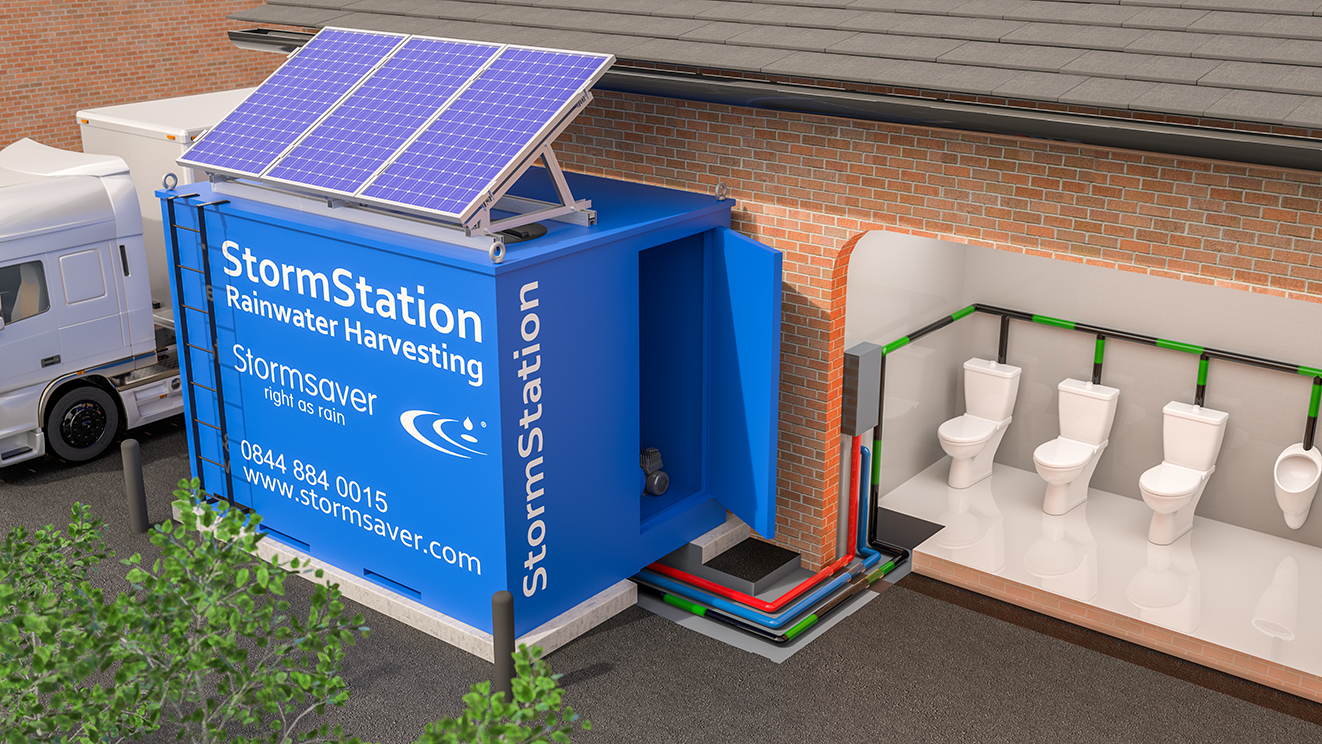 Looking to retrofit rainwater harvesting to an existing building? Or looking for a portable solution? Our StormStation is a truly all-in-one unit and operates on a plug and play basis, allowing you to reap the rewards of water conservation. You can learn how our unique StormStation works by watching our helpful video. The StormStation comes in a range of sizes which is based on your water demand.
This unit is the perfect solution if you cannot install an underground tank or rainwater harvesting is a standalone project without any other works going on in the building.
Is your premises a smaller commercial building? Our pressurised system is well suited for smaller sites which have need to save water and carbon through rainwater harvesting. These systems are ideal for sites where above ground space is limited and there is no space for a header tank as the system feeds water directly to points of use through a pump set and pressure vessel.
Ideal for irrigation and vehicle washing, the pressurised rainwater harvesting system is suitable for garden centres or transport washing plants. We would only recommend this solution for a maximum of 6 toilets and you should always ensure one WC is connected directly to mains water in case of a pump failure or water supply interruption.
Unsure which system you need?
That's where our team of experts come in. Our estimators and engineers are on hand to help with your site-specific needs. We are sure you will have many questions but with nearly 20 years experience in the rainwater harvesting industry there won't be anything we cannot answer. Get in touch here.