Water Scarcity, the true cost of water
It's time to act now on the rising issue of water scarcity. If we choose to leave the problem, our drinking water supplies could be at risk of not coping with a growing population and increasing drought periods in warmer months. Although water is relatively cheap in the UK, the true cost on our surroundings is often not considered. Many people think the issue of water scarcity is simply restricted to warmer climates, but the scale of England's water crisis is widespread. The Environment Agency are warning us that we are 'looking into the jaws of death' if we do not reduce our water consumption levels by 2050.
Is your area 'seriously water stressed'?
The map below is taken from the Environment Agency's report on water stress in England. You can use the map to see if your home or business is in an area which is described as 'seriously water stressed'. You may be thinking what does the term 'seriously water stressed' actually mean? That's a good question!
An area is defined as seriously water stressed if consumption levels within a water supplier's operating region is a high proportion of rainfall, or if future consumption is a high proportion of rainfall. This essentially means that in these regions, water consumption is high and water supplies are at risk if consumption habits do not change.
How does this effect you? Well, all water suppliers within an area deemed water stressed need to charge customers for the volumes they use. The more water used, the higher the monthly water bill. So, why not reduce water consumption and spend the savings on things which matter to your business?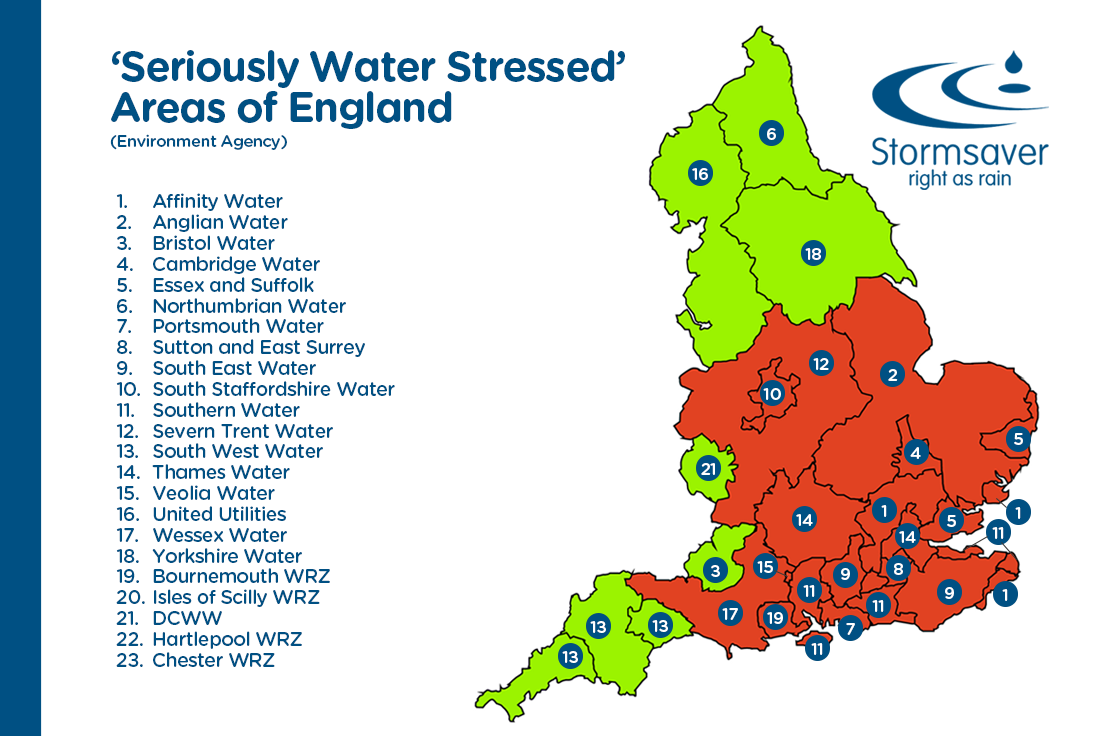 What can your business do to help?
Put water usage at the top of your sustainability policy; and act on it!
Reducing water usage within commercial business settings is easier than you may think. It all starts with understanding how your organisation uses water. From this, team members and clients can be educated on the importance of water conservation. Turning those taps off really does help!
Install a water recycling system in your new or existing buildings
Whether it's Rainwater Harvesting or Greywater Recycling, water recycling systems help to reduce reliance on mains water supplies by recycling rainwater from roof areas or hand basins for non-potable use. Stormsaver systems can help you to reduce water consumption, carbon emissions and money off your mains water bills with our bespoke solutions; what could be better than that?
Your customers and team members are bound to be impressed at your commitment to water conservation. Our rainwater harvesting and greywater recycling solutions can be tailored to your building requirements, allowing your business to maximise savings. Don't worry if your building is already operating, our StormStation Rainwater Harvesting Unit is self-contained and designed for minimal disruption to your operation. It even removes the requirement for costly excavations of underground water storage tanks.
We're here to help
Whether you're trying to achieve water neutrality or simply trying to reduce water use, our team are here to help. Get in touch here.