Rainwater Harvesting Specialists celebrate 19 years
We are delighted to share the news that Stormsaver is celebrating 19 years of being the UKs leading rainwater harvesting specialists! Since pioneering our first rainwater harvesting system in 2003, we have been helping thousands of customers to save water through reducing reliance on mains water supplies. We are going to be using this week's blog to take a look down memory lane and revisit our journey to becoming the leaders in rainwater harvesting!
Back in 2003, the concept of rainwater harvesting was centred around water collection in a traditional water butt. It was often considered only by the few eco-conscious self-builders that were starting to emerge and even then the solutions were very DIY. With no commercial product for the UK market, a young graduate set out to design a mass producible rainwater collection system which could be used for a range of non-potable applications.
Having successfully created and tested the UKs first commercial rainwater harvesting system, that young graduate, our very own Michael Farnsworth, founded Stormsaver with his business partner Lisa. Together, the dynamic duo worked out of a small coach house to sell, build and distribute the new rainwater harvesting product.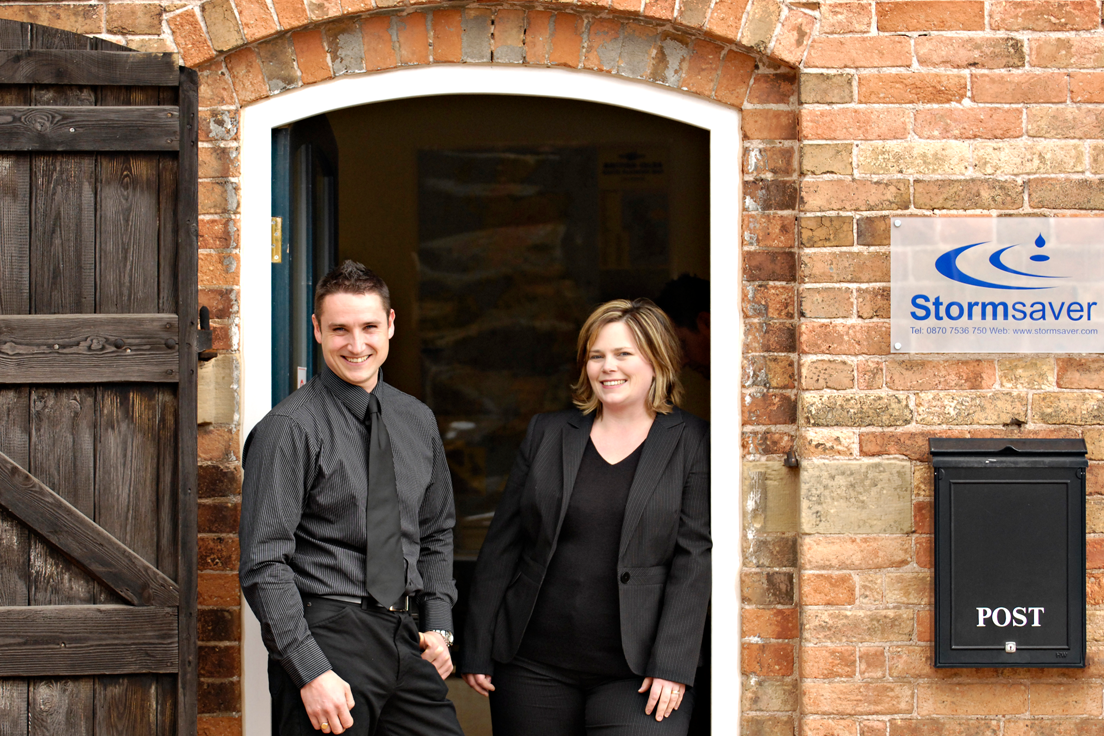 Interest in sustainability in construction began to grow, resulting in increased demand for Stormsaver's new rainwater harvesting product. Five years on and the UK had a portfolio of operating water reuse systems, creating a customer driven demand for maintenance services. Again, Stormsaver was the first independent business to offer rainwater harvesting system maintenance and by 2009, the RainMaintain engineering team were servicing systems across the UK, as well as carrying out remedial work and tank cleaning services.
With a growth of interest in water conservation, along with an expanding team, Stormsaver moved into a dedicated HQ in 2013. The two-acre site represented the latest and greatest in sustainable technology at the time, complete with a rainwater harvesting system, photovoltaic panels and electric vehicle charging points. A converted barn building took advantage of existing materials to house offices and an in-house production facility was also constructed shortly after.
Stormsaver has always had innovation at the core of its ethos and in 2017 launched a new water reuse product for the SUDs market, with one of its chosen partners, StormHarvester. The Active Attenuation combined the water and carbon saving benefits of the Stormsaver Rainwater Harvesting System alongside additional storage capacity to prevent localised flooding.
The innovation didn't stop there; in 2018 the company also launched StormStation, the plug and play rainwater harvesting system. This product allowed existing developments the freedom to reap the benefits of rainwater harvesting just like a new build could. The portable design of the StormStation offered the ability to save water on multiple sites, helping our construction clients to build more sustainably.
Stormsaver has created over 30 employment opportunities, supported localised and national charity efforts, taken part in water conservation projects across the world and continues to develop exciting new technologies for the sustainability market. We have an expert team who are all passionate about water conservation and we have no doubt 2022 will be an another exciting year for Stormsaver!
Learn more about our history here.