Rainwater Harvesting Maintenance explained. A guide for Facility Managers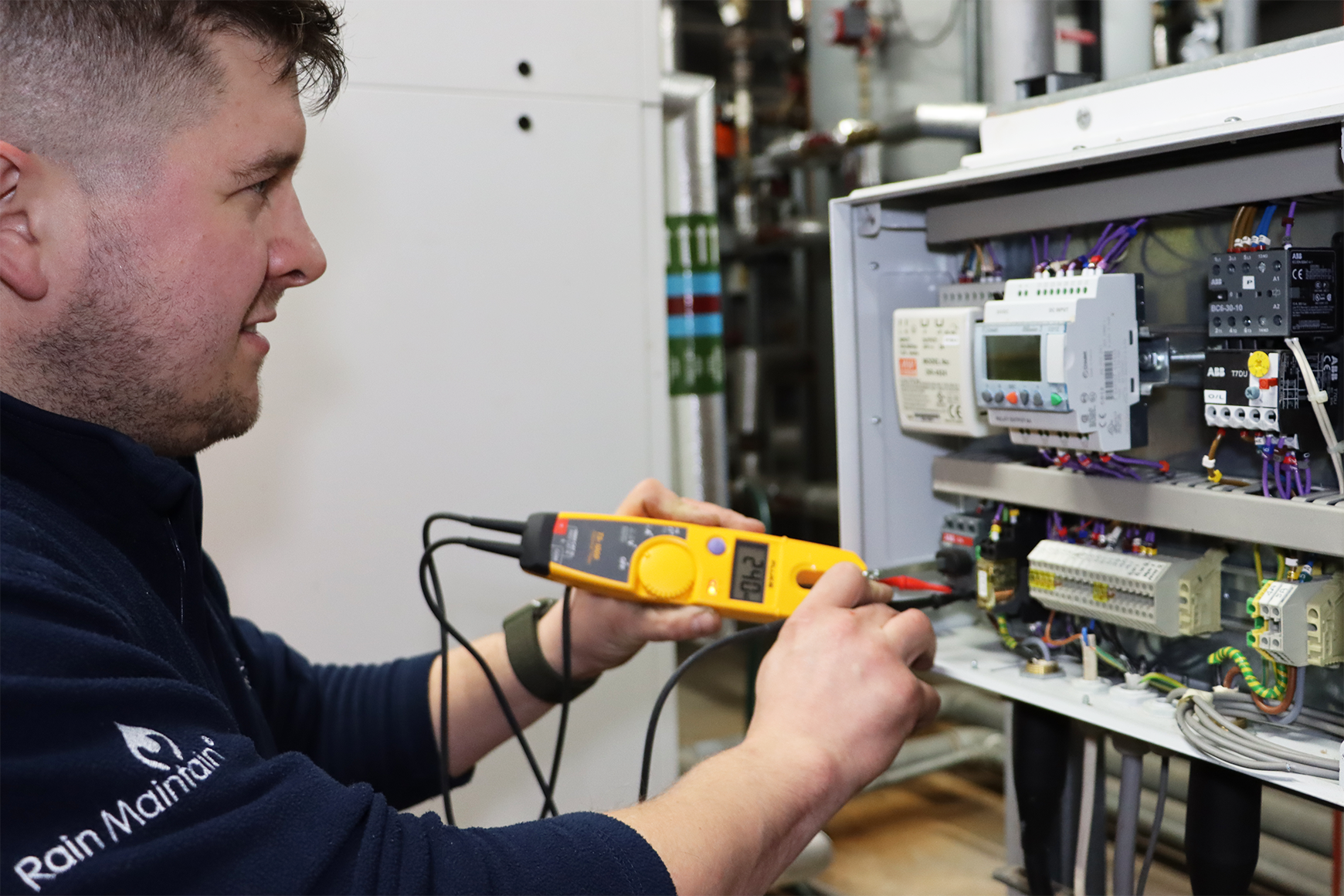 Have you got a rainwater harvesting system in your plant room? Unsure on its operational status? We're here to help. Many of the components which make up a rainwater harvesting system often sit underground or in the corner of a plant room, meaning many building users have little knowledge that the system is designed to reduce water usage and save carbon emissions. Like any other mechanical or electrical product, a rainwater harvesting system performs best when regular pre-planned maintenance is carried out. Maintenance not only ensures long-term water, carbon and money savings, but also ensures safe operation.
We're going to be using this blog to guide you through the different types of maintenance which can be carried out on any rainwater harvesting system to maximise savings.
What is a rainwater harvesting system?
Rainwater Harvesting captures storm water from the roof area to recycle it for non-potable use. Captured water passes through a series of filtration devices and is stored before being boosted to points of use. Water is often reused for toilet flushing, vehicle washing facilities, or irrigation. A central control panel, usually housed in an internal plant room ensures a constant water supply in periods of low rainfall.
If you've just taken over your new building…
Great, you have a fully functioning rainwater harvesting system which is already saving your building water, carbon and reducing your monthly water bill! All you need to do is keep an eye on the system status and cotton wound filtration devices (if you have them) as these may need changing from time to time. As with all machines, regular servicing reduces the likelihood of unplanned breakdowns. By contacting Stormsaver, you can be rest assured that your system stays in tip-top condition. Our bi-annual service visits are designed to maximise system performance for the long term. See our servicing solutions here.
If your building has been operating for a number of years without rainwater harvesting maintenance…
Your system will still be collecting recycled rainwater from the roof area but may experience more unplanned downtime. Water quality may also be affected. In this scenario, it is best to get Stormsaver to do a full system assessment; think of it as a health check, where we'll see how everything is working. Our engineers have years of experience for all types of rainwater harvesting systems, so why not place your trust in us? We always aim to help everyone reap the benefits of water recycling for the long term. Contact us here.
My water quality is poor…
Experiencing discolouration in your water? There are some simple explanations as to why water quality could be poor. Firstly, The British Standard recommends a full tank clean every two years to ensure safe water quality. Secondly, over long periods of time filtration devices can become blocked if they have not been regularly serviced. Finally, excess sediment could be sitting on your roof area and entering the rainwater harvesting system.
Stormsaver offer tank cleaning services for all shapes, sizes and types of rainwater harvesting tanks.
We are your maintenance partner
Stormsaver have years of experience with maintaining all types of rainwater harvesting systems. Our dedicated team always have a solution to extend the life of your system and maximise water, carbon and financial savings. Get in touch today.