Water Conservation - Every Drop Counts!
As the UKs leading rainwater harvesting specialists, we love all things water conservation! So, this Valentine's Day we want to share our passion for water conservation to ensure we can prevent water scarcity together.
We all hear about the importance of reducing our carbon emissions, but did you know we have a growing water scarcity problem in the UK? Areas within the Southeast of England are under significant stress as our population grows and our water consumption habits adapt. The Environment Agency estimate that if our current habits do not change, we will face widespread water shortages across the UK. In total we will require an extra 3.4 billion litres of extra water a day to meet demand by the year 2050.
What is the solution?
Sharing the love for water – we all have a responsibility to create a water saving society! By changing water consumption behaviours, we can reduce demand on mains water supplies. This could be reducing shower time, having a shower instead of a bath or fixing leaking taps. Together these steps contribute to reduced water wastage.
Using water recycling technology for water conservation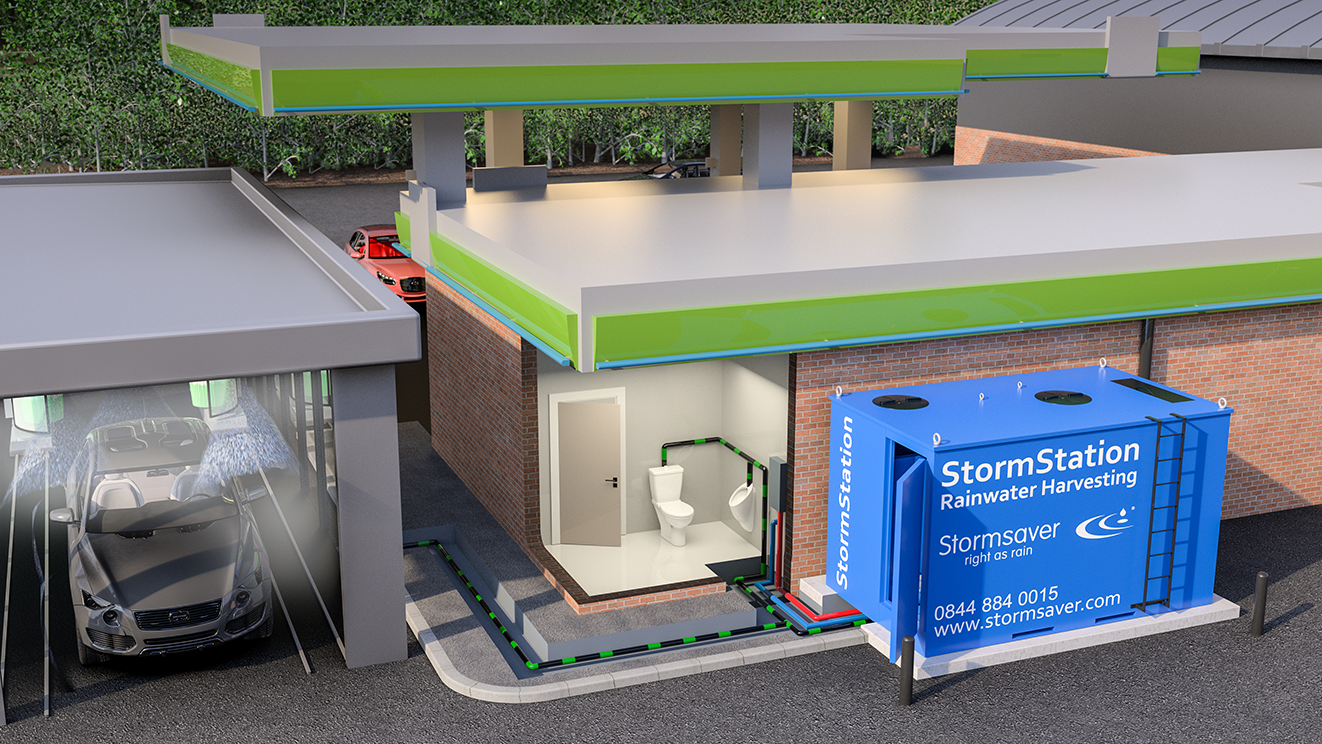 We want everyone to love rainwater as much as we do here at Stormsaver! Even with the plentiful rainfall in the UK, we are seeing areas under increasing water stress. So, it makes sense to harvest large downpours locally so that reservoir water is more readily available in times of drought. Why not capture this free resource and recycle it for non-potable use? Rainwater harvesting technology is a well-established green technology which has been helping both commercial and residential properties to reap the benefits of safe, clean rainwater for years. Rainwater harvesting can supply applications such as, toilets, irrigation, laundry, and car washing!
Some of the benefits of rainwater harvesting technology
Rainwater harvesting is proven to reduce reliance on mains water supplies.
Reduce carbon – rainwater harvesting is less carbon intensive than mains water production.
Take advantage of a free resource to save money on water bills.
Reduce the risk of localised flooding by diverting rainwater into a tank where it will be reused, rather than overloading the storm drain all at once.
Using water twice has never been easier! Like rainwater harvesting, greywater recycling technology allows high occupancy buildings to harvest water from hand basins and showers. This is then filtered and distributed to non-potable applications throughout the building.
How it works
Want to find out more about our market leading water reuse systems? Contact our team today.