Active Attenuation
Do you have a new commercial development project and want to save water at the same time? If so, Active Attenuation could be the solution you are looking for.
What is Active Attenuation?
Active attenuation combines attenuation and rainwater harvesting into one, simple system and does this with the help of an advanced weather prediction technology. The system is used on new build sites, allowing you to reduce flood risk and eliminate unnecessary mains water usage. The system counts towards 100% of attenuation volumes on site at the same time as harvesting rainwater. The rainwater harvesting tank and attenuation system is connected via pipework, allowing stored rainwater to be drained before a storm. The rainwater harvesting system then becomes part of the attenuation capacity, meaning the number of tanks used can be reduced.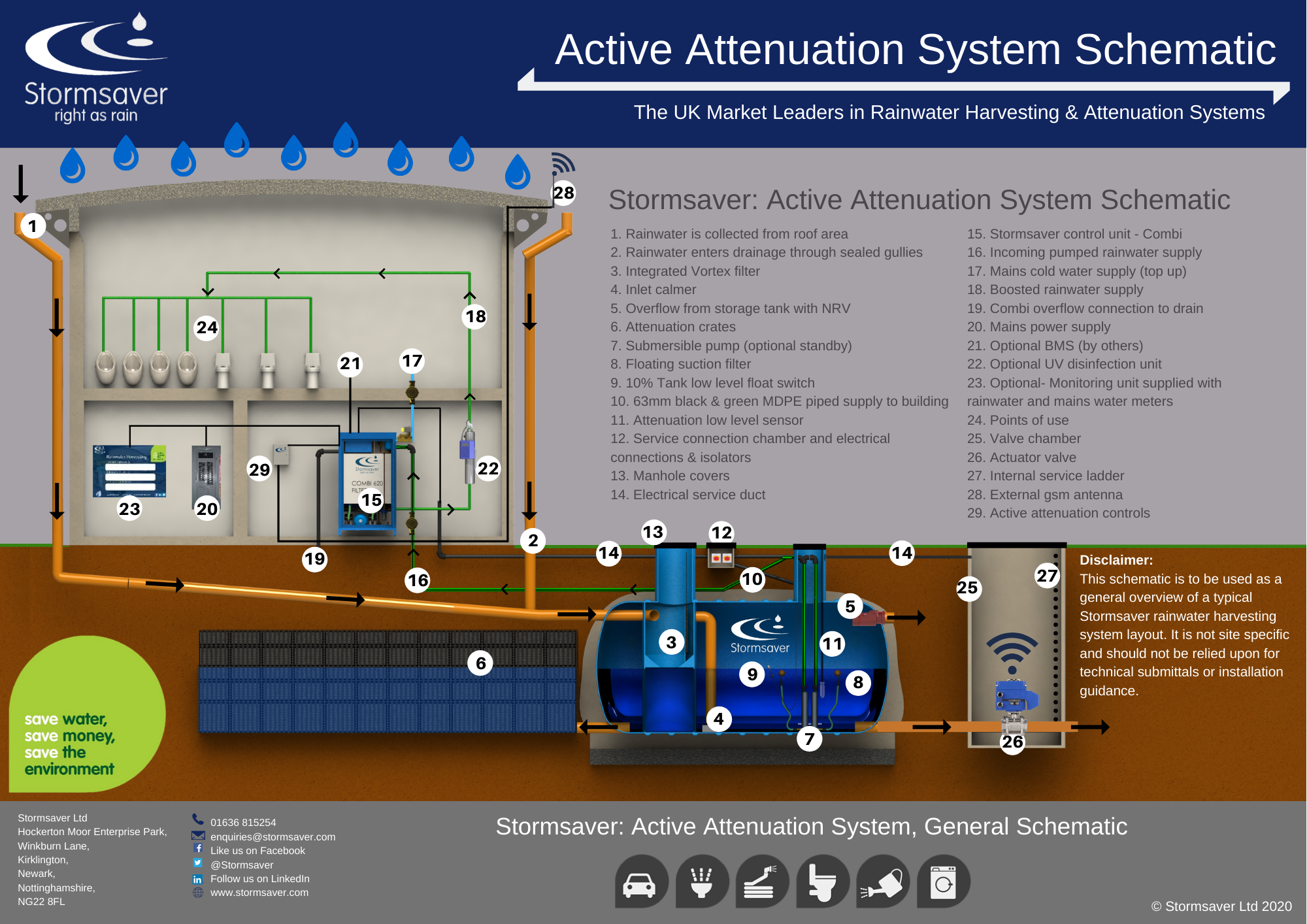 How does Active Attenuation work?
Attenuation is required on all new developments where there is a flood risk. This is to avoid the storm drains becoming overloaded. The attenuation system holds back water in a storage vessel on site, slowly releasing the water instead. Half of the attenuation tank acts as a regular attenuation tank (slowly releasing water) whereas the other half captures roof run-off, and this is stored in the rainwater harvesting tank.
When rainfall is predicted, a control system lowers the amount of water being held within the rainwater harvesting tank, so when the rain arrives, the attenuation capacity is available within the tank.
The system also has a built-in failsafe so that the total attenuation capacity is available for all events that the system is designed for.
What applications can the system be used for?
Toilet and urinal flushing
Vehicle washing
Cleaning and wash down
Laundry
Plant watering and irrigation
Industrial process use
Why is rainwater harvesting important?
Globally, water conservation and sustainability are increasing in importance. As the population grows, the demand for water also increases. In addition to the current water crisis, climate change is also a prominent issue today as our summer periods are becoming a lot drier which is leading to droughts. Water is now becoming a scarce resource meaning it is important to preserve it and use it wisely. The UK is set to require an extra 3.4 billion litres of water per day by 2050 according to the UK Environment Agency. This is where our products can help your business by providing you with water reuse systems helping you to save water, carbon, and money all whilst contributing towards your sustainability goals.
What are the benefits of Active Attenuation?
Additional BREEAM points
Reduce carbon footprints for sites
Reduce the capital cost of both systems
Add value, making your attenuation active can help reduce your running costs
Assists with stormwater and flood control
Reduces the demand on the public water supply
Reduces risk of floods
Are you interested? Contact our friendly team here…