Tank cleaning - everything you need to know
All this week at Stormsaver we're highlighting the importance of tank cleaning in rainwater harvesting systems. Ensuring your tank's cleanliness is at an acceptable standard is important for the operation of the wider rainwater harvesting system. This blog will allow you to learn more about this crucial aspect of maintenance.
Tanks are often designed to bespoke specifications which are dependent on the site requirements, therefore can be of all shapes, sizes, and styles. Different manufacturers all design their tanks with their experiences in mind, meaning some may not consider the maintenance aspect of a tank's lifecycle. With over 20 years of success in the rainwater harvesting industry, Stormsaver provide self-contained tank systems which can be easily maintained. Because of this, all tanks are defined as 'confined space' and require specialist contractors to carry out remedial and cleaning works. Don't worry we can offer you a comprehensive solution, find out more later in the blog!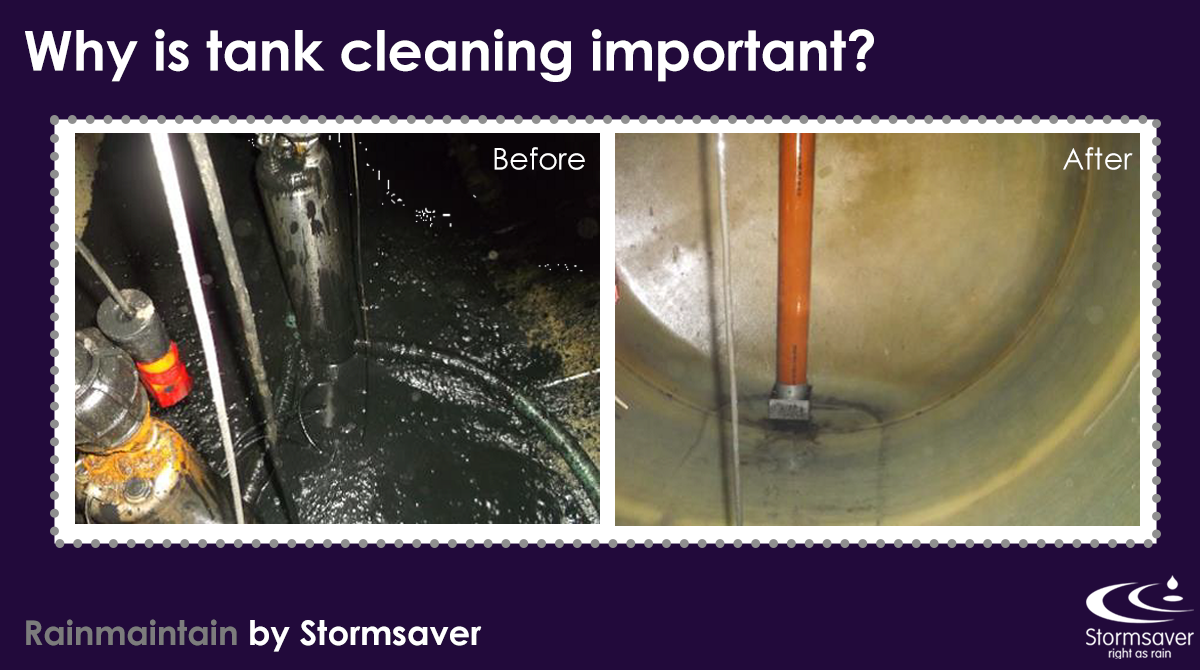 But why is tank cleaning so essential?
You may think that tank cleaning is just another cost to soak up your site maintenance budget, but tank cleaning ensures water quality levels are kept an appropriate standard for non-potable use. If excess particles are allowed to build up, filtration defenses can become overwhelmed and result in multiple issues.
In Stormsaver supplied systems, we provide a pre-tank filter solution which prevents all large contaminants from entering the storage tank. This early stage of filtration can still allow smaller particles into the tank over a prolonged period of time. Other suppliers may not include a sufficient filtration system, therefore allowing particles to pass straight into the rainwater storage tank.
There are a number of ways contaminants can enter your rainwater harvesting system despite robust filtration processes. One of the most common being debris entering the tank during the construction phase caused by unsealed manhole covers. Alternatively, there is potential for a limited amount of sediment to be collected from the roof area which enters the tank. If the sediment is allowed to develop, you could see an increase in component failure, water quality issues or rainwater supply problems.
Over the past 20 years we've seen almost everything there is to see, from shopping trolleys to bricks! Therefore, we recommend a full tank clean at least once every two years.
Want to see the evidence?
Here are some before and after examples of tank cleans carried out by our specialist cleaning team!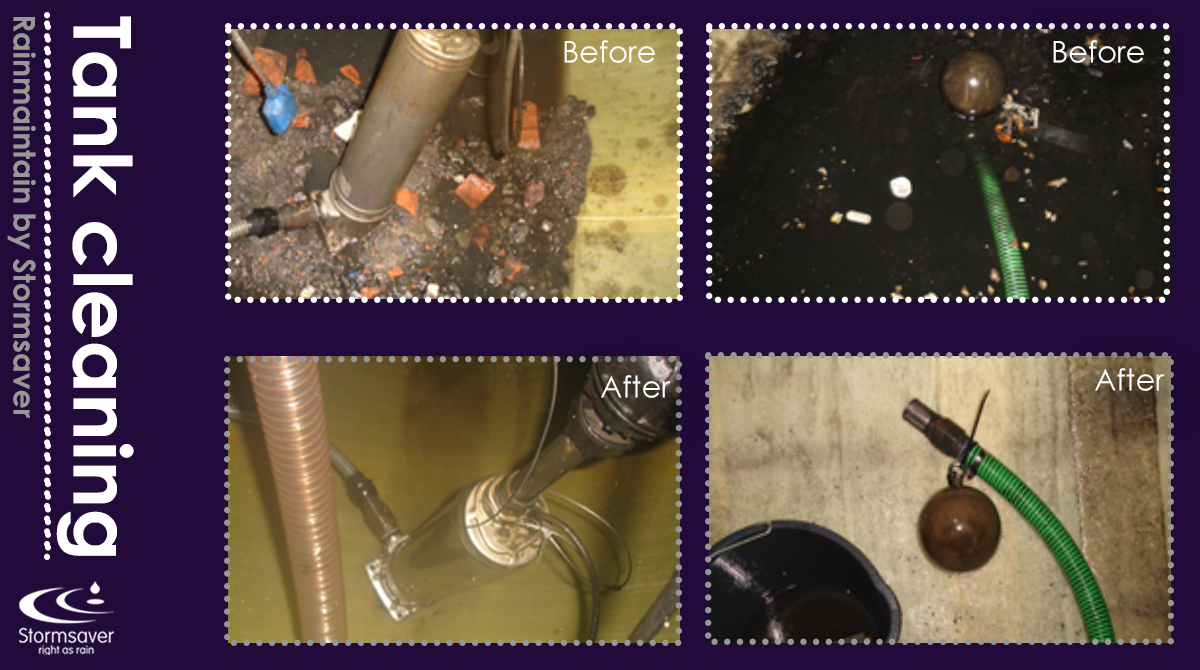 How are tanks cleaned?
As tanks are classed as confined space, cleaning is often considered difficult. Traditionally, contractors who are not confined space certified will use a gully sucker to extract debris out of a tank. However, this piece of equipment is suited for sediment extraction but will miss larger contaminants that work their way into your system. Plus, they can only reach the area directly below the manhole, meaning a large amount of the sediment will be missed and the tank will not be properly clean.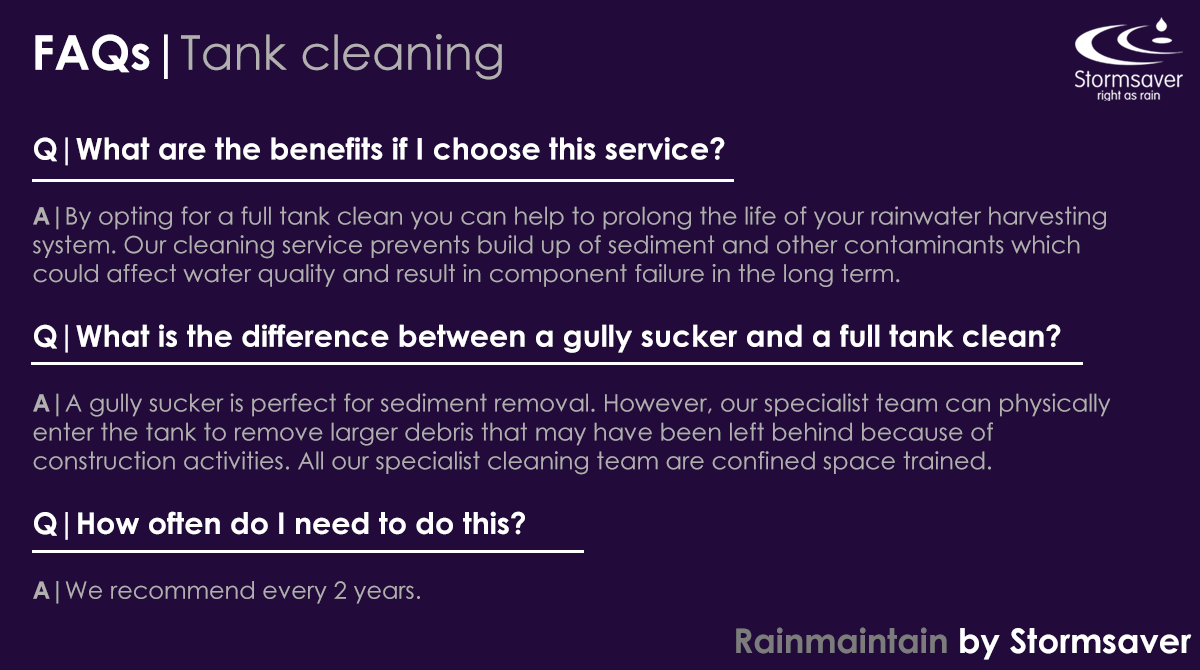 What is the solution?
Rainmaintain by Stormsaver can equip your rainwater harvesting system with a comprehensive cleaning solution to give you complete peace of mind over water quality. We are able to take advantage of specialist equipment which allows our specialist team to physically enter the confined environment. Once drained, our advanced cleaning team can manually remove larger pieces of debris and jet wash any excess silt and sediment. We make certain that your tank clean is completed to the highest standard to preserve a quality water supply. As well as entering the main storage tank, our team are able to clean all associated rainwater harvesting tanks ensuring each component is of the same standard.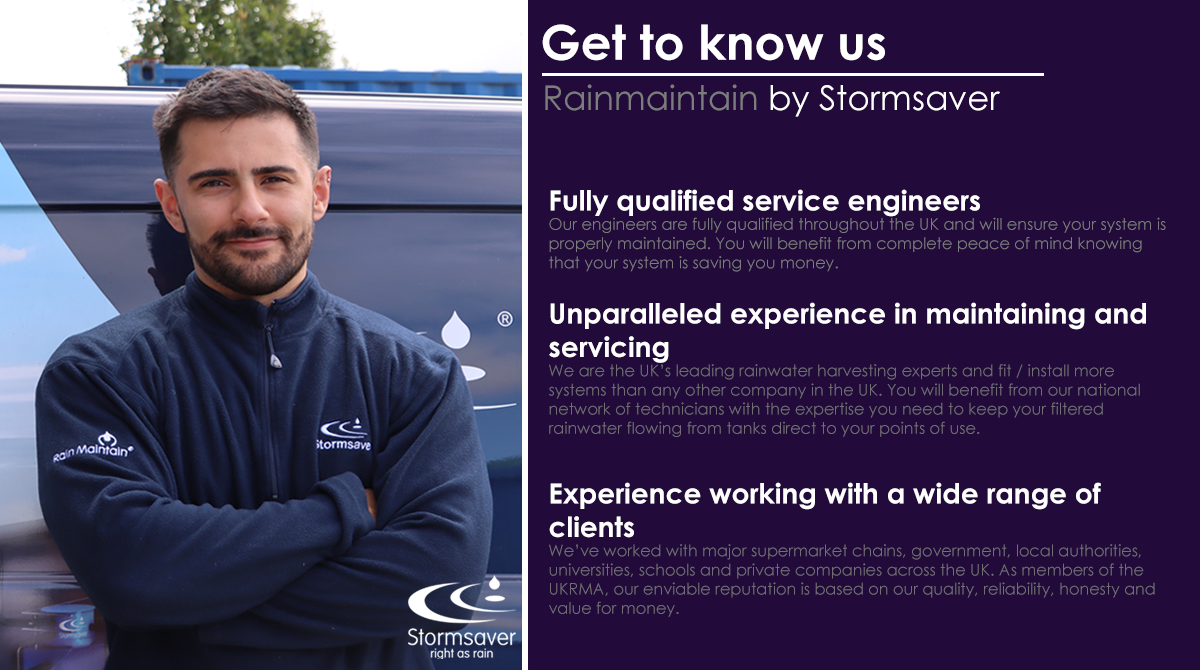 Want to know what our customers are saying?