Quality rainwater harvesting with Stormsaver
It's world quality week! That is why we are going to be using this week's blog to give you a unique insight into our quality assurance process. From the point of sale to commissioning, our team have 18 years of expertise in the rainwater harvesting industry which ensures you receive a quality system.
At Stormsaver we are passionate about supplying quality rainwater harvesting, attenuation and greywater recycling systems which save thousands of litres of water. Our systems are designed to help alleviate pressures on traditional mains water supplies by providing a sustainable alternative in the form of water recycling.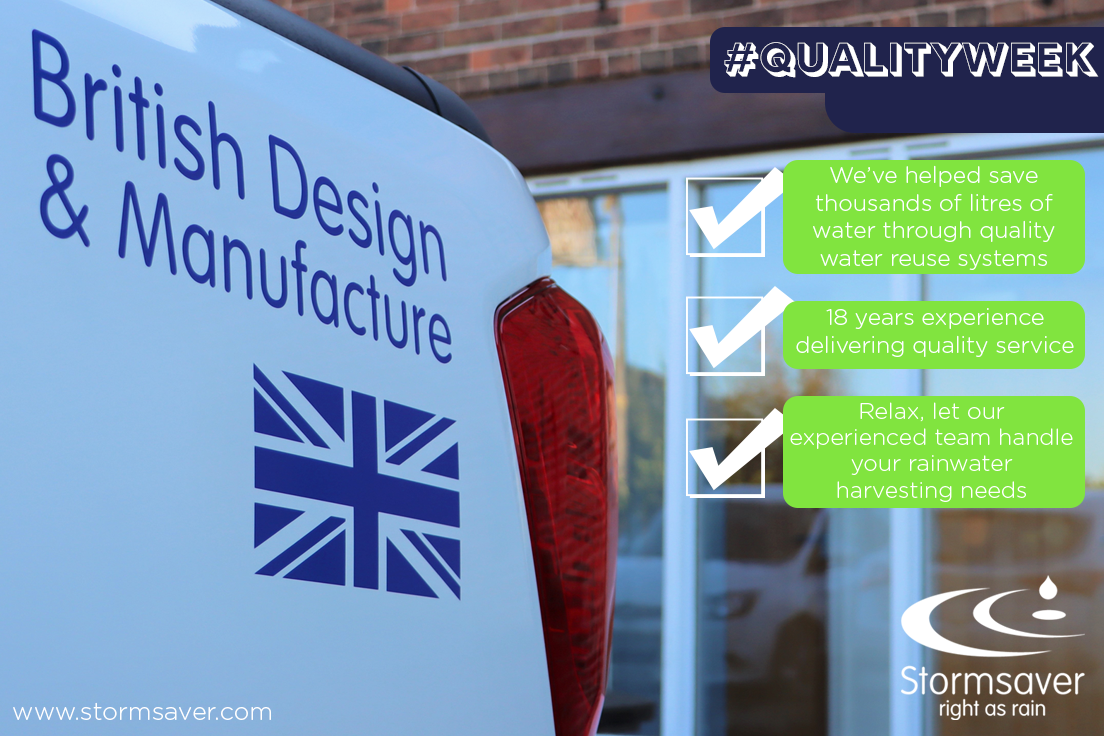 Ensuring you receive quality service from the outset
If you have ever contacted our knowledgeable sales team, you will know they are on hand to deliver expert advice when dealing with new projects. Whether the system is required for a new or existing development, our expert sales team are highly experienced in designing bespoke solutions for both commercial and residential developments. So, you can be rest assured that your project is in safe hands with the UK's leading rainwater harvesting specialists who have helped to save millions of litres of water in the past 18 years.
I've placed an order! What's next?
We have a dedicated post-sales team who act as your point of contact once an order has been placed. They are on hand to answer any questions and send out vital installation and operation manuals which ensure your system is operating in a safe manner for the end user.
We're proud that we manufacture all our rainwater harvesting systems in our in-house production facility, meaning we can guarantee the highest build quality for your system. Once our team of workshop technicians have assembled your new system, the system goes through a rigorous quality assurance regime in our testing facility. Stormsaver are so confident in our product, we offer a 1-year warranty when a complete system is ordered.
Dispatch time!
So, your order has arrived on site, you're confident it has been installed correctly and project commissioning is fast approaching. Our dedicated commissioning engineers will conduct a site visit to carry out final checks to assure you that the rainwater harvesting system is performing in line with necessary expectations. We aim to give complete peace of mind over the operation of your new system and will produce a full commissioning report.
Educate on the importance of a maintenance plan
It is important the end user understands the necessity of a comprehensive maintenance plan. Stormsaver can offer a range of cost-effective maintenance plans to ensure your system continues to save water and money in the long term.
To find out more visit: The UK's leading rainwater harvesting specialists
Or contact: enquiries@stormsaver.com