Want to find out more about Team Stormsaver?
This week at Stormsaver we're giving you a unique insight into the beating heart of our business, our employees. Our team consists of 28 wonderful people who all have a shared vision to create a sustainable future by saving water. Whether it be our accounts team, or our engineering team, Team Stormsaver is made up of a talented bunch of individuals who each add value to our business. You may have had contact with various individuals in our business, but we get many requests from our customers who want to know more about Team Stormsaver. We always like to go the extra mile for our customers and that's why we're throwing open our doors in this blog to show you what makes our business tick.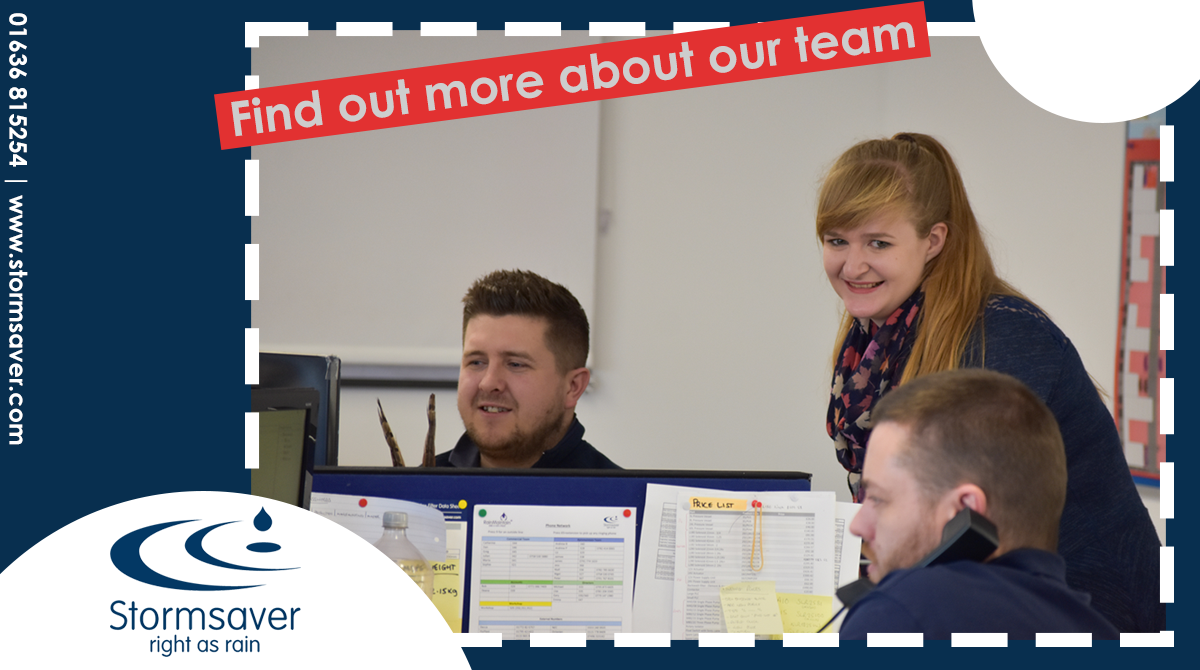 The customer journey – How your enquiry moves through each team.
Once you submit an enquiry, our specialist sales consultants and estimators will ensure you are given the most appropriate system for your site or project. Our commercial sales team offer a free rainwater harvesting consultancy service for you to take advantage of and with 20 years of experience they are often considered as experts in their field. After a contract is signed, a project will then be passed over to our talented post-sales team who ensures smooth delivery of your new system in line with set lead times. This team consists of project coordinators, production engineers and our amazing accounts team, who all contribute to the process.
After successful commissioning by one our of specialist engineers, your system will then be passed to Rainmaintain by Stormsaver who will reach out and offer you a bespoke maintenance package based on your site requirements. Our maintenance team consists of sales consultants and engineers who are responsible for servicing, maintaining and remedials.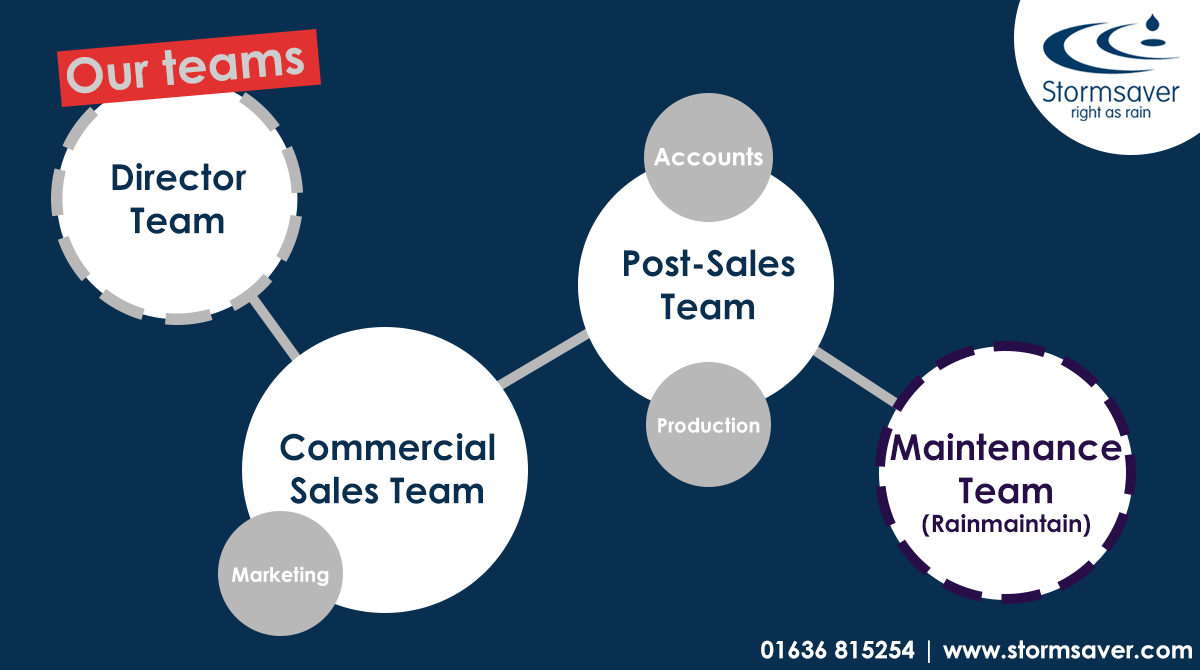 Interesting, tell me more?
Director team
The reason we are all here, Michael and Lisa Farnsworth started the business over 20 years ago to tackle the increasing problem of water scarcity. Gary Scullion oversees the technical aspect of Stormsaver to ensure each system is the best it can be. Between them, they are responsible for overall vision as well as ensuring daily business operations are as smooth as they can be.
Commercial sales team
Our sales team are a talented team of individuals who will quote you a bespoke system that meets your site requirements. They are also responsible for making sure you receive the best price for your new, quality rainwater harvesting system.
Post-sales
This team is made up of multiple diciplines and they are responsible for manufacturing your rainwater harvesting system to the highest quality. Our project co-ordinators assist with organising and planning of our people to ensure you receive your system on time. And finally, our accounts department will deal with the financial aspect of this process.
Maintenance team
Our skilled maintenance team consists of engineers and sales consultants who are all responsible for ensuring your rainwater harvesting system is performing to its maximum potential. Collectively, our engineers covered over 9000 miles in August 2021 showing how many sites they visit!
You're the UK market leaders for rainwater harvesting, how does your team continue to innovate?
As well as extensive experience within the industry, developing and retaining our team is something we are highly passionate about at Stormsaver and is the reason we continue to innovate within the indsutry. We have been attracting talent for 20 years now, hosting multiple placement students and work experience opportunities. In additon to this we also allow our internal team to progress their own skills through company provided training and development.
We offer all our employees technical training for rainwater harvesting systems, meaning they have exceptional industry knowledge when dealing with your enquiries. This is acommpanied by health and safety training that guarantees we have the highest saftey standards across our site.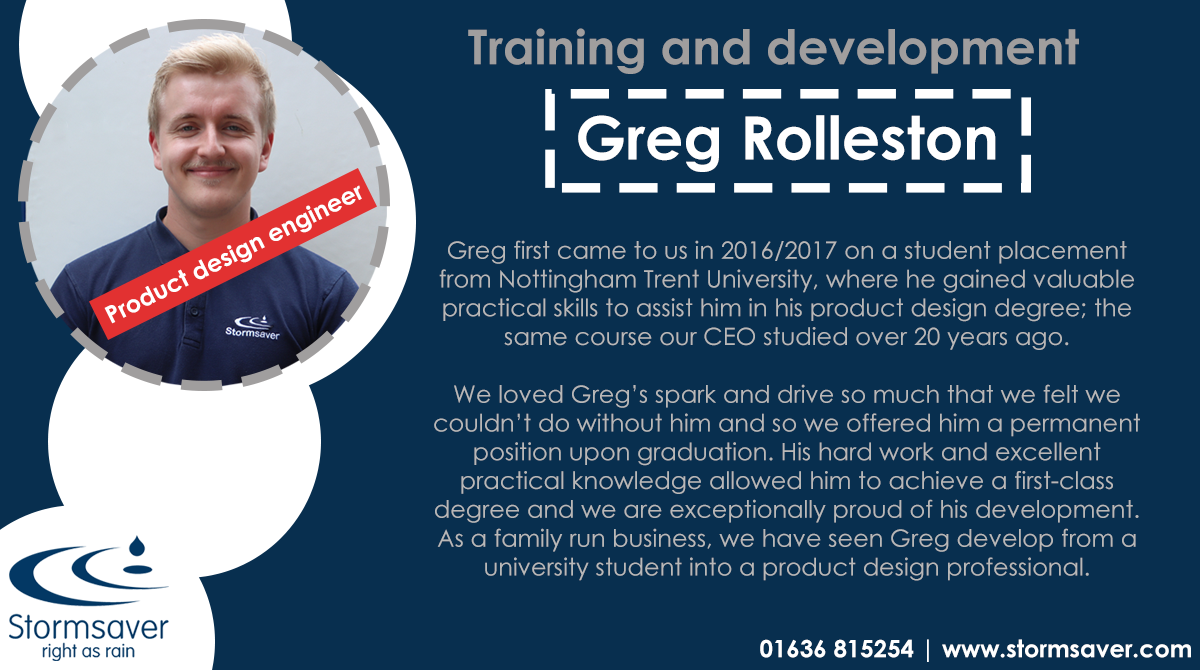 Your systems are all manufactured in-house? Tell me more about Stormsaver HQ….
Based in Nottinghamshire, our two-acre site is powered by 250 photovoltaics and is a highly sustainable development. Our team are surrounded by open fields and fresh air meaning we are continually reminded of why we are here – to contribute to a more sustainable future! We are able to manufacture all our bespoke systems in our on-site workshop which ensures a high-quality finish for your system.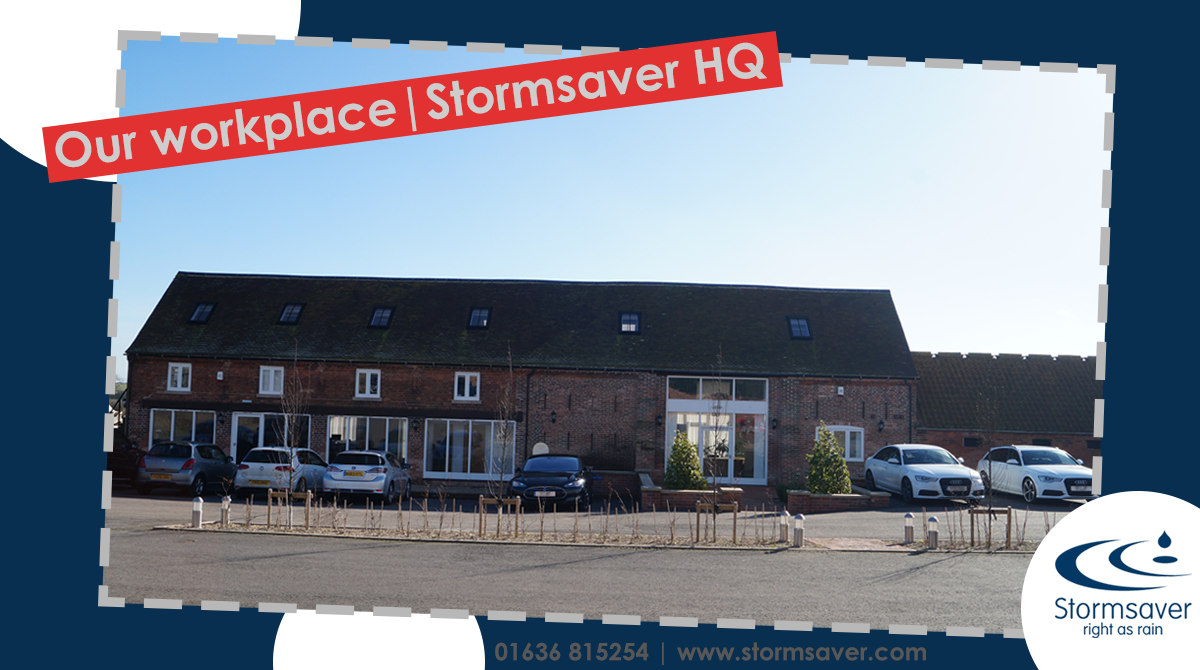 Interested in kickstarting your career by joining the Stormsaver team? Get in touch to hear about our latest vacancies!