Stormsaver launch revolutionary StormStation for rainwater harvesting
Introducing the revolutionary StormStation – from Stormsaver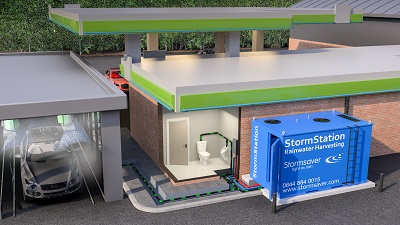 Rainwater Harvesting is the buzz word on everyone's lips yet again. More specifications in new builds mean that businesses and councils across the UK are seeing their mains water consumption and their water bills drop. Water companies are bringing in financial incentives to implement water re-use schemes and both the Welsh Government and Greater London Authority are pushing water re-use and management to the top of their agenda in their policies.
Underground tanks along with header tanks and control panels housed in the building are the most common solutions. But what if you cannot accommodate this? With over 15 years placed as the UK's market leader, Stormsaver are often approached by clients who want a simple to install, all in one solution…. And now they can have it.
The StormStation combines rainwater storage, controls, pumps and mains water back up, all in one piece of kit. Simple to install and easy to connect, this exciting product opens up a huge opportunity for sites who have not before been able to access rainwater harvesting.
In particular, the product is suited to;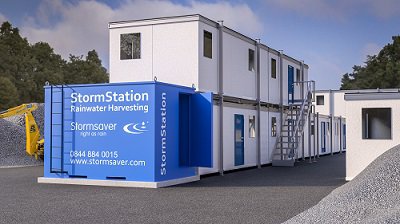 Retro-fit for existing buildings, particularly those where the applications are grouped in one location
Fuel stations and service stations
Out of town retail or fast food restaurants
Temporary site cabins for construction sites
Anywhere that an underground tank cannot be accommodated
The unit can be offloaded easily straight from the delivery vehicle into place and is portable so can be moved from site to site.
More details can be found on our web site, or ask our team to pop in and visit you talk about our rainwater harvesting and attenuation products in person.